Ridgeback Totes
These fabulous, superbly made totes are made exclusively for JustRidgebacks by Pure Country Weavers.
All our designs are created from original watercolors by Sandra Fikes.
The totes measure 17 X 17 inches, are fully lined in black cotton and have black cotton canvas straps.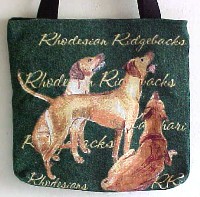 4 IN STOCK NOW!


Anyone with RRs knows what has these dogs attention - a Squirrel! This humorous look at Ridgeback life features three dogs on a deep green background.

As with our other totes, they are fully lined in black cotton cloth with cotton canvas straps.



Totes are $65, includes Shipping (US only!)
$65 US $75 to Canada or Mexico $85 to Europe and Australia

If you want your kennel prefix or your dog's name behind the dog image, we can do that, too. On the left is an example of a tote made for Tji-Wara RRs. and AlaJazz GSPs from a photo.


Customized Tote is $75

(includes shipping in the US! For other countries,

email me

for prices.)


Your can email me with the "text" you want and photo or include text in the PayPal comments section.

[HOME] [EDUCATIONAL CDS] [CRYSTAL TEES] [IRON ONS] [ LOGO MANIA] [RIDGEBACK TOTES] [RR Throws}] [THOMPSON PRINTS] [CUSTOM AFGHANS/TOTES][RR THROWS]

[MONTHLY SPECIALS] [EMAIL US]